Summary: This article discusses the data mining applications in various areas, including sales/marketing, banking, insurance, healthcare, transportation, and medicine.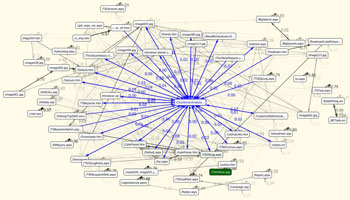 Data mining is a process that analyzes a large amount of data to find new and hidden information that improves business efficiency. Various industries have been adopting data mining to their mission-critical business processes to gain competitive advantages and help business grows.
This article illustrates data mining applications in sales/marketing, banking/finance, healthcare, insurance, transportation, and medicine.
Data Mining Applications in Sales/Marketing
Data mining enables businesses to understand the hidden patterns inside historical purchasing transaction data, thus helping plan and launch new marketing campaigns promptly and cost-effectively.
The following illustrates several data mining applications in sales and marketing:
Data mining is used for market basket analysis to provide information on what product combinations were purchased together when they were bought and in what sequence. This information helps businesses promote their most profitable products and maximize profit. In addition, it encourages customers to purchase related products that they may have been missed or overlooked.
Retail companies use data mining to identify customer's behavior buying patterns.
Data Mining Applications in Banking / Finance
Several data mining techniques e.g., distributed data mining have been researched, modeled and developed to help credit card fraud detection.
Data mining is used to identify customer loyalty by analyzing the data of customer's purchasing activities such as the data of frequency of purchase in a period of time, the total monetary value of all purchases and when was the last purchase. After analyzing those dimensions, the relative measure is generated for each customer. The higher of the score, the more relative loyal the customer is.
To help the bank to retain credit card customers, data mining is applied. By analyzing the past data, data mining can help banks predict customers that likely to change their credit card affiliation so they can plan and launch different special offers to retain those customers.
Credit card spending by customer groups can be identified by using data mining.
The hidden correlation's between different financial indicators can be discovered by using data mining.
From historical market data, data mining enables to identify stock trading rules.
Data Mining Applications in Health Care and Insurance
The insurance industry's growth entirely depends on the ability to convert data into knowledge, information, or intelligence about customers, competitors, and its markets. Data mining has been applied in the insurance industry lately but has brought tremendous competitive advantages to companies that have implemented it successfully. The data mining applications in the insurance industry are listed below:
Data mining is applied in claims analysis such as identifying which medical procedures are claimed together.
Data mining enables forecasts for customers who will potentially purchase new policies.
Data mining allows insurance companies to detect risky customers' behavior patterns.
Data mining helps detect fraudulent behavior.
Data Mining Applications in Transportation
Data mining helps determine the distribution schedules among warehouses and outlets and analyze loading patterns.
Data Mining Applications in Medicine
Data mining enables to characterize of patient activities to see incoming office visits.
Data mining helps identify the patterns of successful medical therapies for different illnesses.
Data mining applications continuously develop in various industries to provide more hidden knowledge that increases business efficiency and grows businesses.