Summary: in this tutorial, we will show you how to install Python and setup development environment for developing Python applications.
Installing Python
In order to develop applications in Python, you need to have at least Python distribution installed in your system. Python provides you with many installers in various popular platforms such as Linux, UNIX, Windows and Mac OS X. The  installers make it very easy for you to install Python.
We are going to show you how to install Python for Windows platform.
First, go to the Python's office website http://python.org/ and navigate to the download section http://python.org/download/
Second, download the suitable installer. We chose Python 3.3.0 Windows X86-64 MSI Installer to download.
Third, double click on the download file and follow the steps below: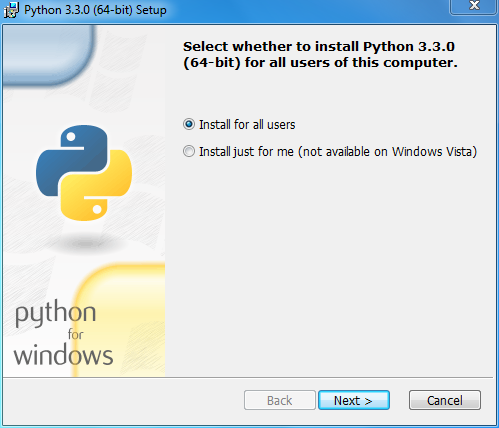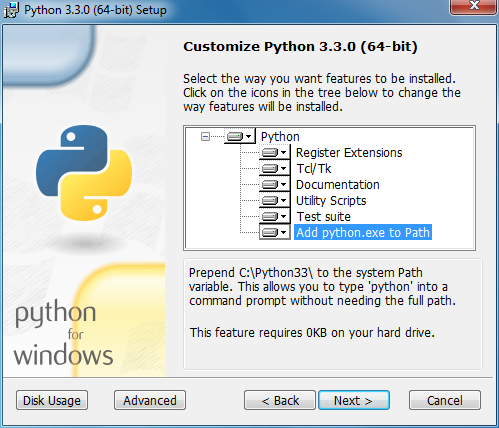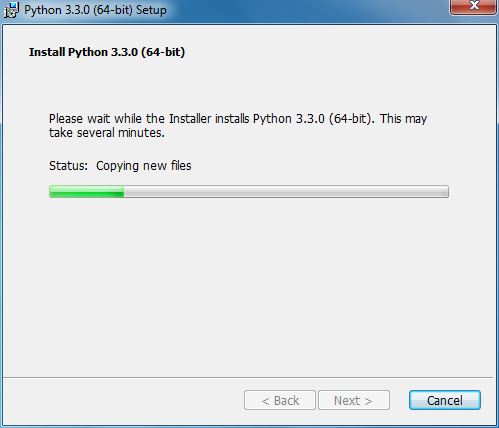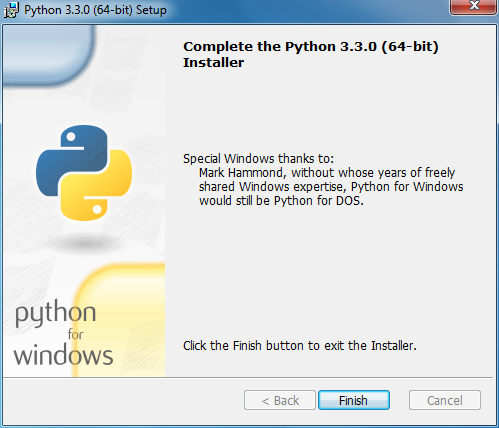 Installing Python IDE
IDE stands for integrated development environment. IDE provides a lot of features such as syntax highlighter, debugger, and code completion,etc., that help you develop Python application faster and more productive.
There are many Python IDEs available ranging from free to commercial. You can find them all in the following links
The PyDev is Python IDE for Eclipse. It is free and easy to start with.
Installing Eclipse
In order to install PyDev, you need to install Eclipse first. You need to follow the steps below to install Eclipse:
Go to the Eclipse website, download section http://www.eclipse.org/downloads/
Download Eclipse Classic 4.2.1. You may see the version slightly different from this tutorial.
Extract the zip file into the folder C:\eclipse
To launch Eclipse, double click on the  eclipse.exe in the  C:\eclipse folder. Eclipse will ask you for the workspace at the first time. Basically, a workspace is a directory where you store all you Python's projects that you're going to develop.
Enter your workspace and click OK button.
Download PyDev inside Eclipse
Go to menu: Help > Install New Software… A new dialog will appear. Enter the URL http://pydev.org/updates  in the field Work with:

Click Add button and enter the PyDev in the field Name.
Click OK button and wait for several seconds, PyDev and PyDev Mylyn Integration (optional) items will appear.
Select all items and click the Next > button. A new window will display, choose "I accept the terms of the license agreements".
click Finish button and wait for a few seconds to allow Eclipse to install PyDev.
When the installation is finished, a popup will display to ask for restarting Eclipse. Click Yes button to restart Eclipse.
Configure PyDev for Eclipse
Go to menu Windows > Open Perspective > Other… Choose PyDev and click OK button
You need to configure Python Interpreter for Eclipse. Go to menu Windows > Preference and choose Pydev > Interpreter Python.
Enter Python 3.3 as the Interpreter name and  C:\Python33\python.exe as the interpreter executable.
Click OK button, the result looks like the following window:
Congratulation, you've finished setting up Python development environment. It's time to to develop your first Python application.